Whatever may happen, we've got your back.
Secure yourself from all kinds of fire and burglary hazards with PrishaPolicy's expert team.

Sookshma

griha

Stand. Fire

Other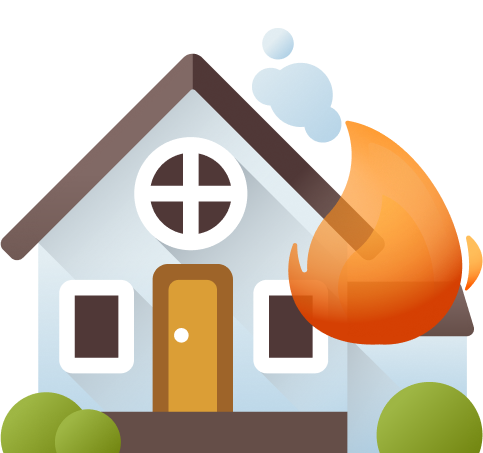 What Would You Like to Protect Today?
Fire Insurance — what is it?
As the name suggests, fire insurance pays the bills and expenses that are incurred by the policyholder in case of a fire.

The fire may be caused by a host of different reasons: natural disasters such as storms and lightning or man-made disasters like faulty wiring or riots, a fire insurance policy will cover the cost of damage and repairs.

In legal terms, this is known as Standard Fire and Special Perils Insurance.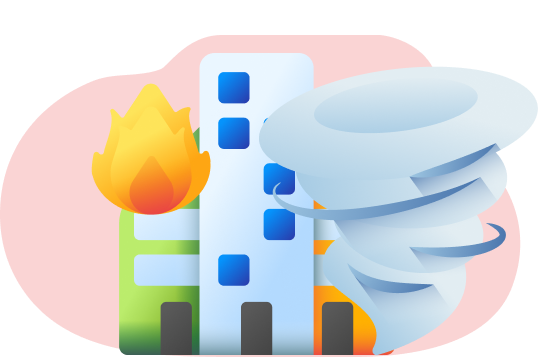 The Necessity of Fire Insurance
Fire insurance covers a policyholder against fire loss or damage from a number of sources. These include fires brought about by electricity, such as faulty wiring and gas explosions, as well as those caused by lightning and natural disasters. A burst and overflowing water tank or pipes may also be covered by the policy.
Who Should Buy Fire Insurance?
Educational Institutes
Schools, Universities, Online Coaching Classes

Businesses
Retailers, shopkeepers, godowns

Manufacturing Firms
Industrial sites, factories, cottage industries

Individual
House, garage, personal properties that are at risk

Service Providers
Medical clinics, restaurants, lodges
Other Institutes
Banks, research, companies etc
Important characteristics of fire insurance
Requires full disclosure of property details
Misrepresentation of facts is a serious offence in Fire Insurance as it requires reimbursement of properties lost and contents. Thus, each policy requires a strict and full description of each item that comprises the property. Any wrong information will make the contract void
Personal Insurance Contract
The policy agreement is a personal contract with the policyholder and the insurer. They are also part of the policy and their actions are liable to the insurer. The claims can also be made only by the person mentioned in the document.
Fire Needs to be The Only Cause of Loss
The damage to the insured property must be caused by accidental and actual fires only. Any form of damage caused by the destruction of the insured property that violates these principles will be compensated by the policy.
Annual Contract
Fire Insurance policies are year to year contracts that must be renewed annually. If not renewed, the insurer is not liable to pay the insured any compensation after expiration.
Insurable Interest
The insured needs to have a vested interest in the property that is being considered for coverage. Its damage or non-damage should have a direct effect on the insured's life. Only then is one eligible for getting fire insurance.
Principle of Indemnity
Fire insurance is an agreement for only damage caused by a fire to the covered property. In the case of a fire that causes zero damage, the insurer is not liable to pay any sum to the insured.
Standard Fire and Special Perils Insurance
Type of Calamity
Inclusions
Exclusions
Fire
Destruction and damage to personal property insured
Damages caused by natural heating or drying processes
Lightning
Cracks in the roof, building, short circuits and other related fires.
None
Explosion
Damages to the property by exploding items
Damages caused by non-domestic boilers, and other vessels that generate steam
Aircraft Damage
Loss or destruction caused by Aircraft and articles dropped
Damages caused by Pressure waves
Aircraft Damage
Loss or destruction caused by Aircraft and articles dropped
Damages caused by Pressure waves
Riot, Strike and Malicious Damage
Physical damage and fire caused by external forces
Fires caused by burglary, theft, larceny
Impact Damage
Fires caused by impact from a vehicle or animal
Damage to the insured person or employees
Subsidence & Landslides
A fire caused by subsidence (sinking of the ground) of site
Damage caused by normal cracking, settlement or bedding down of new structures, coastal or river erosion
Bursting & Overflowing of Water Tanks, Apparatus, and Pipes
Damages caused by these actions to property insured
None
Leakage from Automatic Sprinkler Installations
Physical damage and fire caused by external forces
Fires caused by burglary, theft, larceny
Missile Testing Operations
All fires caused
None
Why Choose PrishaPolicy
5 Reasons why you should choose us to be your policy issuing partner of choice. Allow us to tell you why we are one of the fastest growing insurance brokers.
Customer-Centric Culture
For us, you always come first. Our products and services are designed to find the best coverage for all.
A Decade of Market Leadership
Our teams expertise and experience makes them the perfect guides in choosing a policy that fits your needs.
Reliable and Consistent
Rest assured that everything will be taken care of without a glitch. From shortlisting to claims processing & delivering promises without a hitch.
Guided Policy Assistance
Our experts are forever ready to assist you through each policy detail with a fine-tooth comb.
Claims Assistance
Our DNA prompts - Sales is incomplete without timely support. From start to end, we facilitate smooth processing from lodging to settlement.
Still Thinking About It?
Get on a call with us. We take pride in being associated with you for competitively managing your risks with the best insurance covers and delivering a stress-free experience.
Questions You Might Have
Your building may get damaged due to fire or other perils and the losses will not be covered by a general insurance policy. For that, you'll need a fire insurance that will cover the damages sustained by the building. Similarly, natural calamities also may wreak devastating losses, which can burn a hole in your pocket. Hence, to safeguard your property, you need fire insurance.
Yes, the insurance company will give you a pro-rated refund of premium. If there is any retention of premium or balance for a short period, it will be refunded.
Usually, general fire insurance doesn't cover these items, unless discussed with the insurer while buying the policy. However, on special request and subject to valuation, these items can be covered under a policy.
There are various insurance plans offering coverage against risks such as fire, earthquakes, floods that cause damage to the building, unexpected breakdown of any machinery, damage to electronic equipment, workmen compensation, fidelity guarantee, cargo risks cover etc. You can select the Sum Insured for every category based on the insurance needs of the enterprise.
A burglary insurance policy covers you against the risk of theft. However, the policy will cease if the house remains unoccupied beyond a defined period unless the insurance company has been informed beforehand. In such cases, you will be covered only if the insurer agrees to extend the cover even if the house is empty. This is why it is important to clear everything at the time of buying the plan.
No. The correct claim amount is decided based on the current market value of your property and the basic Sum Insured. The compensation that is to be offered, in case of a loss, will be decided on whether the property is sufficiently insured or not. If you choose an excessive amount, it will mean excessive premium, while in case the amount is adequate, you'll get an amount is equal to the market value of the property. In both the cases, the offered claim amount will be the same.
Despite all the precautions, you can't predict a calamity. Hence, you need to be calm in case any such situation arises. In case of a fire, inform the local fire brigade who will help you to put out the fire. If there is any loss of another person's property due to the fire or in an effort to douse it, the insurer shall compensate for the same.
Inform the insurer, cooperate with the supervisor at the time of loss assessment. You can also take photos of the loss if the surveyor takes a lot of time to arrive and shift all the unaffected assets to a safe place. Fill the claim form and submit it along with the documents supporting your claim. After the repair or replacement of damages, submit all the bills to the insurer.